Abu Garcia
Buy from Abu Garcia easily online from us in the fishing shop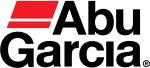 ABU GARCIA® offers fishing tackle for life.
Fishing tackle that delivers the level of reliability and performance that knowledgeable and passionate anglers expect.
The ABU GARCIA® brand is known all over the world for quality and precision. The Swedish techniques and skill in making rods, reels and lures guarantee the most reliable and durable products of their kind on the tackle market.
ABU GARCIA® was founded in Sweden in 1921, near the famous Mörrum salmon river, in the town of Svängsta. Originally founded as a watch factory, the production range was redesigned in the late 30s by the founder's son, Gote Borgstrom. From that time on, precision fishing reels were produced. The headquarters of ABU GARCIA® are still in Svängsta today, home to the most advanced fishing reel factory in the world.
In 1941 the first fishing reel was designed and produced, that was the legendary ABU Record. Followed by the famous AMBASSADEUR multiplier reels in 1952 and the cardinal stationary reels in 1965.
There were 1519 products found.
(0.121 seconds)