Bedchairs - absolute comfort for long fishing sessions
At Fishingsquare.com we pride ourselves on offering you a wide range of top quality fishing products including an impressive range of bedchairs.
Bedchairs are more than just simple fishing loungers - they are your ultimate companion for hours of fishing in absolute comfort. Whether you're planning a short fishing trip or a multi-day session, a quality bedchair is essential to ensure you get the most out of every minute on the water.
The bedchairs in our fishing shop are specially designed to give you maximum comfort without compromising on quality. Here are some reasons why our bedchairs are the best choice for your fishing trips:
Ergonomic design: Each bedchair in our range has been carefully designed to ensure an optimal lying position. The ergonomic design reduces fatigue and back pain so you can focus on fishing.
High-quality materials: First-class materials ensure that our bedchairs are durable, robust and weatherproof. You can rely on your bedchair to accompany you in all weathers.
Easy to use: Our bedchairs are easy to transport and easy to set up and take down. They fold compactly so you can easily transport them to your fishing spot.
Versatility: Whether you prefer a flat lying position for a short nap or a slightly elevated position for a better view of your fishing waters, our bedchairs offer you versatile adjustment options.
Additional storage space: Many of our bedchairs have handy pockets and storage compartments where you can keep your fishing gear, snacks and drinks within easy reach.
What are bedchairs needed for?
Bedchairs, also known as carp loungers, are specially designed loungers used by anglers to have a convenient and comfortable resting place during their fishing trips. These bedchairs are particularly popular with carp anglers and other anglers who spend long periods on the water. Here are some reasons why bedchairs are needed:
Comfort while waiting: Fishing requires patience. Anglers can wait hours for the right moment for a fish to bite. A bedchair offers a comfortable place to sit or lie down to make the waiting time more pleasant.
Multi-day fishing trips: Bedchairs are extremely practical for anglers who go on fishing trips lasting several days. They offer a place to sleep by the water without the anglers having to rely on additional accommodation.
Back-friendly fishing: Bedchairs' ergonomic design provides good back support, which is important during longer fishing sequences. This can help minimize back pain and discomfort.
Observation of the body of water: Bedchairs allow anglers to take an elevated position and get a better view of the water. This is particularly useful for spotting fish movement and other signs.
Weather protection: Some bedchairs have removable rain or sun canopies that protect anglers from the elements and allow them to have a more comfortable time on the water.
Additional storage space: Many bedchairs come with pockets or shelves that anglers can use to store fishing gear, bait, snacks, and other essentials.
Overall, bedchairs offer anglers the opportunity to rest, comfortably wait and even sleep during their fishing trips. They are essential accessories for serious anglers who want to spend long periods on the water while not neglecting comfort and convenience.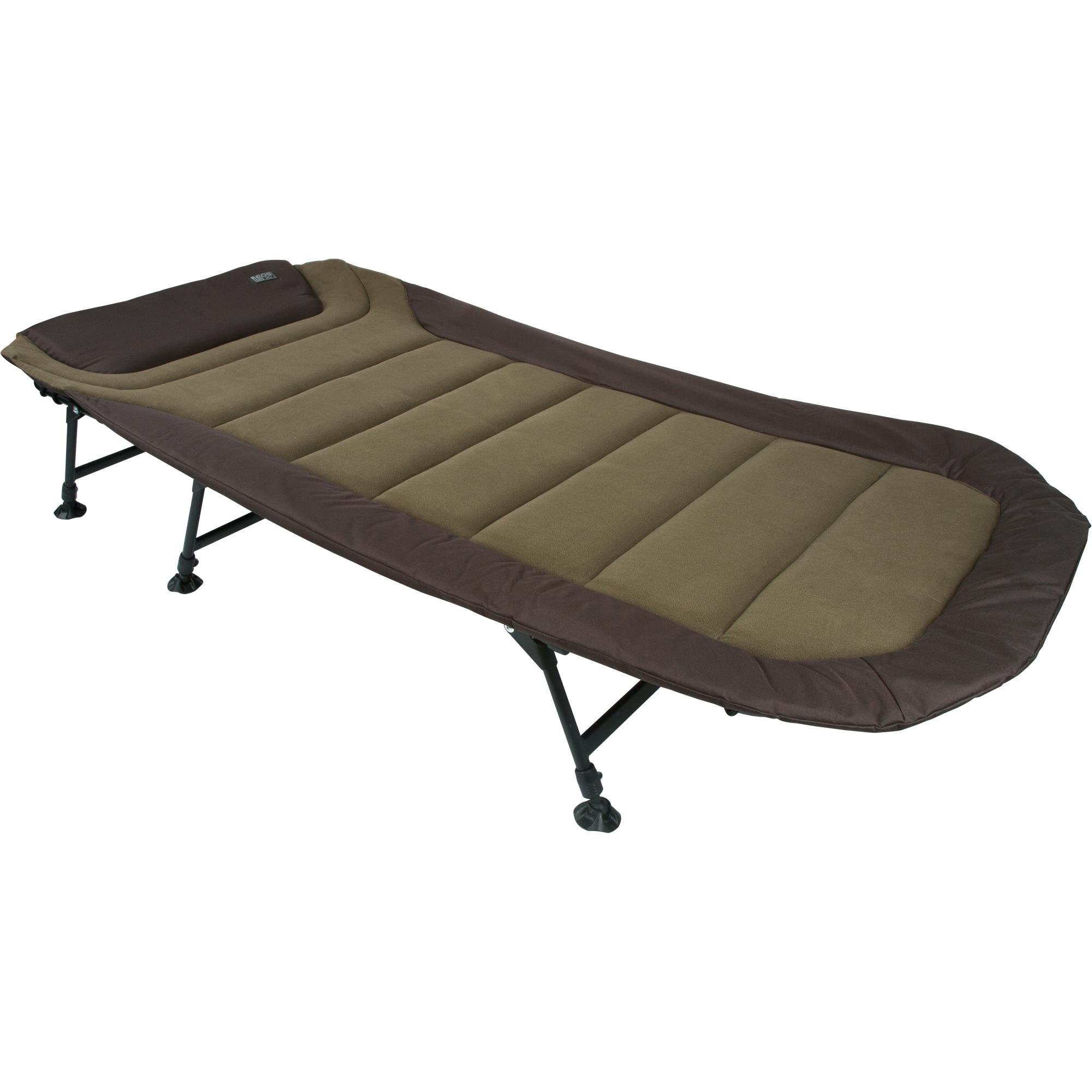 What is there to consider before buying bedchairs?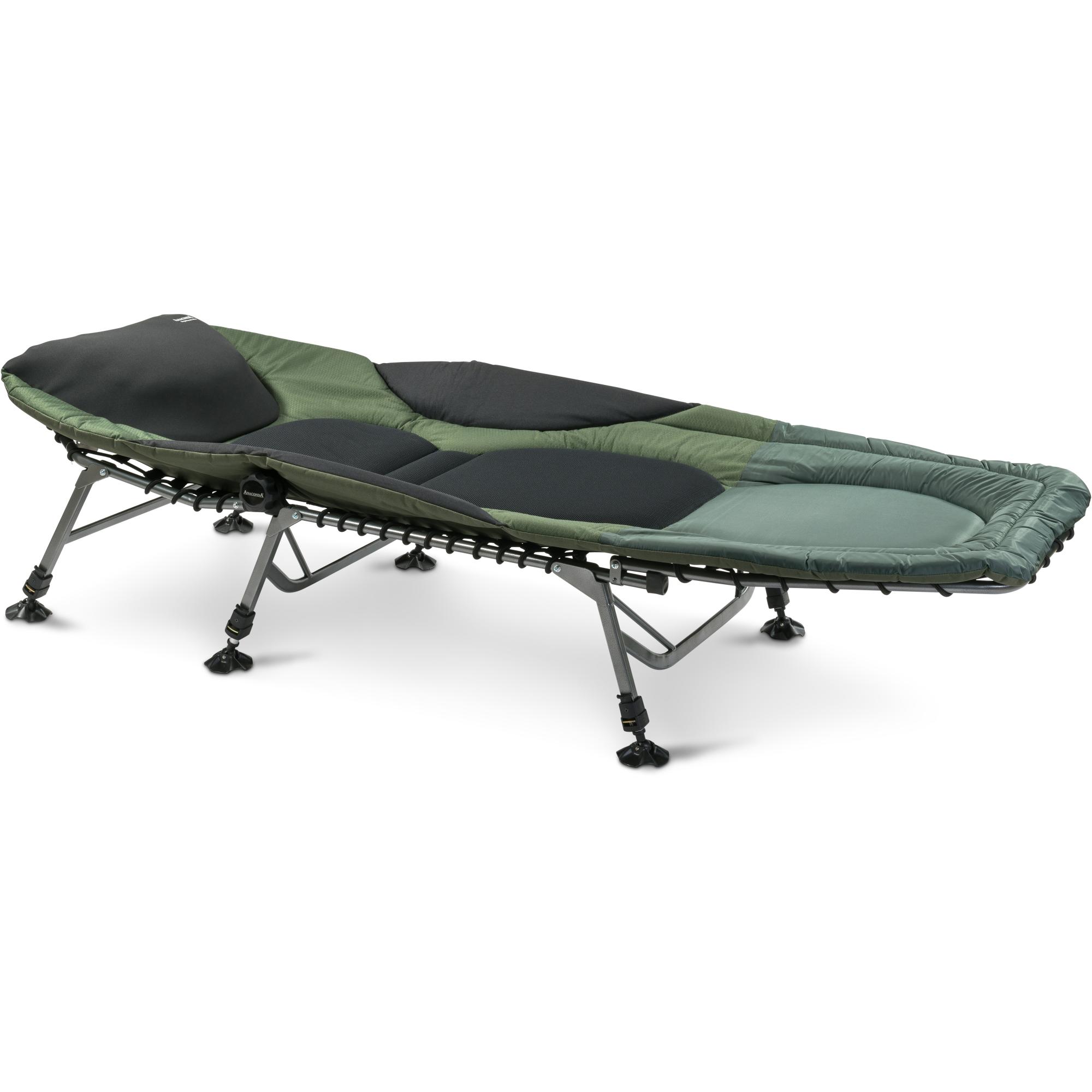 Before you buy a bedchair, there are several important factors to consider to ensure you choose the right model for your needs. Here are some important aspects to consider before buying bedchairs:
Comfort: One of the main reasons for buying a bedchair is comfort. Look for an ergonomic design and sufficient padding that allows you to lie and sit comfortably. If possible, try the bedchair to make sure it meets your comfort needs.
Height and weight: Think about how and where you will use the bedchair. If you have to travel longer distances to the fishing spot, a lighter model might make sense. Also pay attention to the size of the bedchair to make sure it fits in your car or in your fishing gear.
Stability and Durability: Make sure the bedchair is stable and sturdy to safely support your weight and possible movements while fishing. High-quality materials such as aluminum frames and durable covers contribute to longevity.
Easy to use: Check how easy it is to assemble, disassemble and transport the bedchair. Easy assembly and disassembly saves time and effort on the water.
Adjustability: Some bedchairs offer adjustable backrests and leg sections that allow you to customize your reclining position. This adaptability can greatly improve comfort.
Additional functions: Some models have additional functions such as integrated pockets, storage space, sun or rain protection. Consider which of these features are important to your fishing needs.
Brands and manufacturers: Well-known and established brands are often a reliable choice when it comes to quality and customer satisfaction.
Warranty and after-sales service: Find out if the manufacturer offers a warranty and how to contact customer service if you have any problems or questions.
By carefully considering these factors, you can ensure that the bedchair you choose will meet your needs and provide you with an enjoyable and comfortable fishing trip.
Buy cheap bedchairs online at Fishingsquare.com
Our mission is to offer you the best possible fishing equipment to make your fishing experiences unforgettable. Browse our range of quality bedchairs and discover how you can enjoy your next fishing trip with maximum comfort and relaxation.
If you have any questions, our experts are available Monday to Friday from 9am to 00pm to help you choose the perfect bedchair for your needs. We look forward to supporting you on your way to experience unforgettable fishing moments!