Pirk – the special fishing bait
In our online shop at Angelplatz.de you will find everything you need to make your fishing trips a success. And today we would like to introduce you to a special type of fishing lure - the pirk.
The pirk is a classic fishing lure that is particularly popular with sea fishing. It usually consists of a lead-shaped body with a hook and an attractive decoration. Pirks are known for attracting large predatory fish and are therefore highly sought after by anglers around the world.
A pirk is a real all-rounder. Whether you want to fish for cod, halibut, pollock or other sea creatures, a pirk is an excellent choice. Due to its special design and weight, the pirk sinks quickly and simulates the movements of injured fish. This makes it extremely attractive to predators, who respond by striking.
What are pirks needed for?
Pirks are mainly used for sea fishing and serve to attract and catch predatory fish. They are usually used from the boat, but can also be thrown from coasts or jetties.
The main purpose of a pirk magnet is to attract large predatory fish such as cod, halibut, pollock, mackerel and other sea creatures. Pirks are able to sink quickly, simulating the movements of injured prey fish. This attractive move attracts the attention of predatory fish, who respond by striking.
A pirk can be fished either actively or passively. In active fishing, the pirk is used in combination with different reeling techniques to make the bait appear as realistic as possible and to attract the attention of the fish. In passive fishing, on the other hand, the pirk is simply attached to a rod and lowered to depths where it can remain for long periods of time while the angler waits for bites.
Choosing the right pirk type, size, weight and color depends on various factors such as the target fish species, water conditions and the angler's individual preferences. There is a wide variety of pirks on the market to suit different needs.
Overall, pirks are effective fishing lures that, when used correctly, allow for large catches. They are an essential part of any sea angler's fishing gear, allowing for an exciting and successful fishing experience.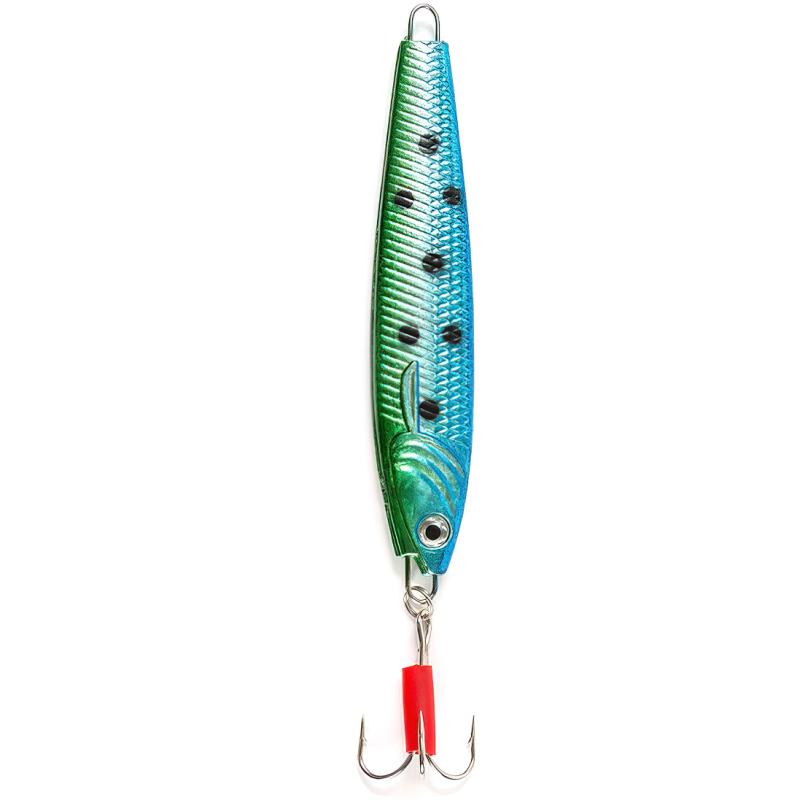 What are the differences between pirks?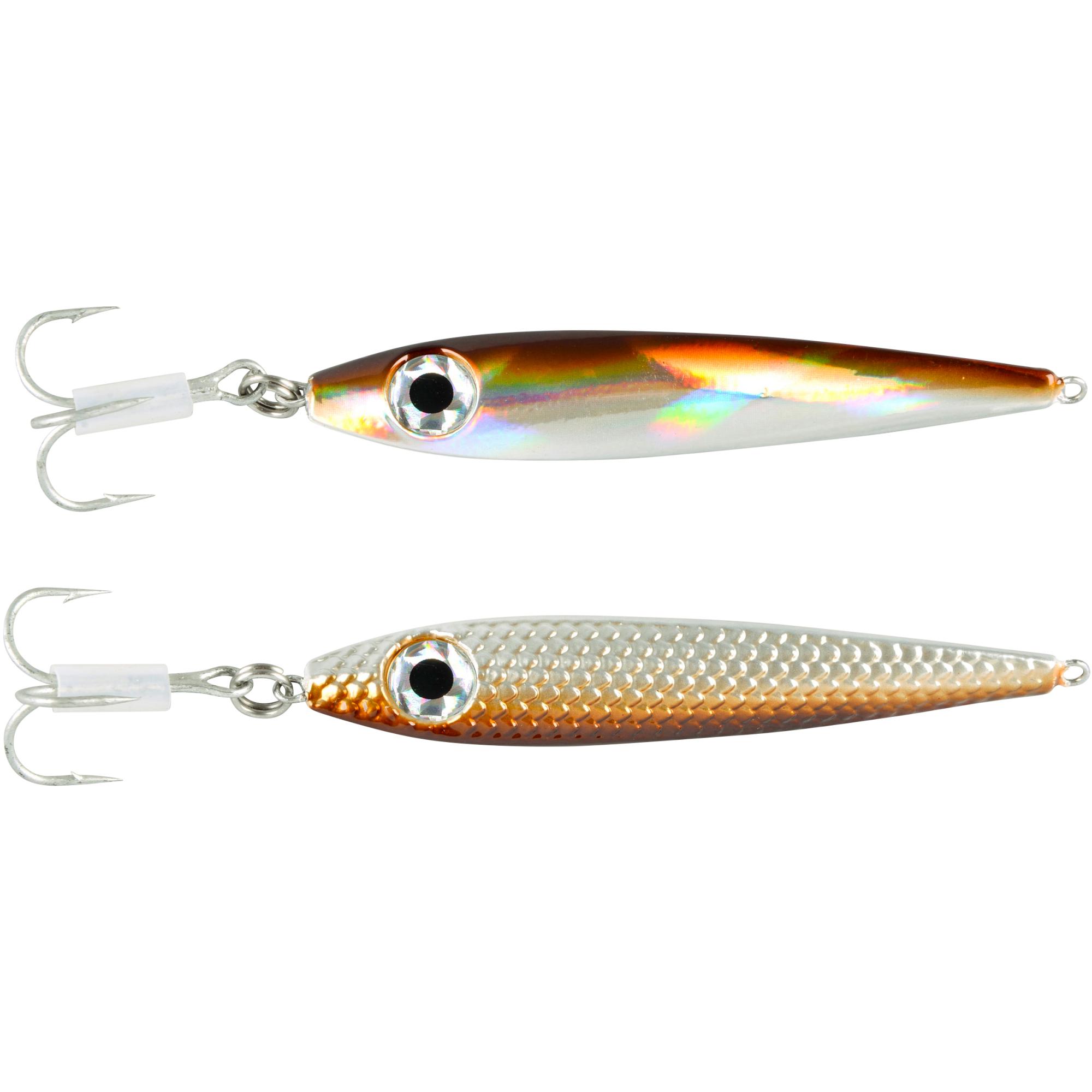 Size: Pilks are available in different sizes, from small to large versions. The size of the pirk can determine the target fish you want to catch. Larger pirks are usually suitable for larger predatory fish, while smaller pirks can be used for smaller fish species.
Weight: Pilks have different weights that affect their sink rate and their suitability for certain water conditions. Heavy pirks sink faster and are well suited to deeper waters, while lighter pirks sink slower and may be better suited to shallower waters.
Shape and design: Pilks can have different shapes and designs. Some are elongated while others have a bulbous or flattened shape. The shape can affect the movement and behavior of the pirk in the water. Some pirks also have specific grooves, indentations, or reflective surfaces designed to increase visual appeal.
Color: Pilks come in a variety of colors and patterns. The choice of colors can vary depending on the prevailing light conditions, the turbidity of the water and the preferences of the fish species. Lighter colored pirks can be easily seen in clear water, while darker colors can be better suited to murky water.
Crochet: The type and quality of the hooks attached to the pirks can vary. Some pirks have single hooks, while others have treble hooks. The hooks should be sturdy and sharp to ensure a good grip.
These differences allow anglers to tailor their pirk selection to the specific conditions and desired target fish species. It can be fun to try out different pirks and see which ones work best to maximize your fishing success.
What is there to consider before buying pirks?
target fish species: Think about which species of fish you want to fish with the pirks. Some pirks are better suited to certain types of predatory fish than others. Find out about the preferred prey fish of the target fish species and choose accordingly.
Water conditions: Consider the conditions of the body of water you will be fishing in. Is the water deep or shallow? Is it clear or cloudy? Different pirks are suitable for different water conditions. For example, heavy pirks are suited for deeper waters, while light colors can be more visible for clear water.
Height and weight: Choose the size and weight of the pirks based on the size of the target fish species and the water conditions. Larger pirks are usually suitable for larger fish, while smaller pirks can be used for smaller fish species. The weight affects the sinking speed of the pirk and should be adjusted to the depth of the water.
Quality: Pay attention to the quality of the pirks. Check the finish, hook quality and lure longevity. Quality pirks last longer and offer better fishing performance.
Experience level: Consider your personal fishing experience level. Some pirks are more suitable for experienced anglers, while others are also suitable for beginners. Choose pirks that match your skills and experience.
Budget: Set a budget for purchasing your pirks. There are pirks in different price ranges and it is important to find the right balance between quality and price.
By considering these aspects you can ensure you are selecting the right pirks for your fishing needs and maximize your chances of a successful catch. It can also be helpful to seek advice from experienced anglers, tackle shops or online reviews for more recommendations and tips.
Buy cheap pirks on Fishingsquare.com
Our range of pirks includes different sizes, weights and colors to meet your individual needs. We offer pirks for beginners and experienced anglers alike. Our pirks are made by reputable manufacturers and are known for their quality and effectiveness. So you can rest assured that our pirks give you the best chance of landing your next big catch.
In order to make your purchase from us as pleasant as possible, we offer you a simple and secure ordering process. Browse our online shop and be inspired by our selection of high-quality pirks. If you have any questions or need advice, our friendly customer service team is available Monday to Friday from 9am to 00pm.
Start your adventure today and get the best pirks for your next fishing trip. With our fishing accessories and your passion for fishing, you are guaranteed exciting experiences and fascinating catches.
We look forward to welcoming you to Angelplatz.de!