Match rods - sensitive and precise to the target fish
Successful fishing requires not only passion and skill, but also the right equipment. At Fishingsquare.com we pride ourselves on offering you an exquisite range of quality match rods that will take your fishing experience to a new level
Match rods are a special type of fishing rod specially designed for fine and precise fishing. They are characterized by their sensitive tip and balanced flexibility to meet the demands of fishing with light lures. Match rods are ideal for fishing in still waters such as lakes and slow-flowing rivers.
The advantages of match rods:
Accurate throws: Thanks to the sensitive tip, match rods enable precise and long casts, so that you can fish accurately even in hard-to-reach places.
Light baits: Match rods are ideal for fishing with light baits and small parts, making them an excellent choice for fishing for peaceful species such as trout and silverfish.
Safe landing of fish: The match rod's fine tip dampens fish escapes and reduces the risk of hook losses, allowing you to land more fish safely.
Sensitive Drilling: The match rod's sensitive feedback allows you to intensely feel the fish being played, resulting in an exciting and satisfying fishing experience.
What is there to consider before buying match rods?
1. Fishing style and area of ​​application: Think about what type of match fishing you will primarily be using the rod for. Do you want to fish in lakes where long casts are required, or do you prefer fishing in smaller waters with narrow fishing spots? Choosing the right rod length and action depends on your preferred fishing style and intended use.
2. Length and Action: Match rods come in a variety of lengths, typically between 3 and 4,5 metres. Shorter rods offer more precision while longer rods allow you to cast further. The action of a rod describes how the rod bends when under pressure. Match rods typically have a parabolic action that extends evenly throughout the length of the rod. A balanced action is important for casting light lures with precision and playing fish safely.
3. Material and quality: Match rods are made from different materials such as fiberglass, carbon fiber or a combination of both. Carbon fiber is lighter and more sensitive, while fiberglass is stronger. Quality materials and workmanship contribute to the rod's durability and performance.
4. Casting weight and line class: Pay attention to the recommended casting weight of the rod, which indicates how heavy the bait you want to cast should be. Also adjust the line class of your rod to the fishing conditions and the size of the fish to be expected.
5. Transport length: If you intend to transport or travel your rod frequently, the transport length is important. Shorter shipping lengths make it easier to transport and store the rod.
6. Handle Design: The handle of the rod should be comfortable in your hand and give you a comfortable feeling when fishing. Try different handle designs to find out which one suits you best.
By considering these aspects before purchasing a match rod, you can ensure that you choose a rod that will suit your fishing needs and provide you with many successful fishing moments.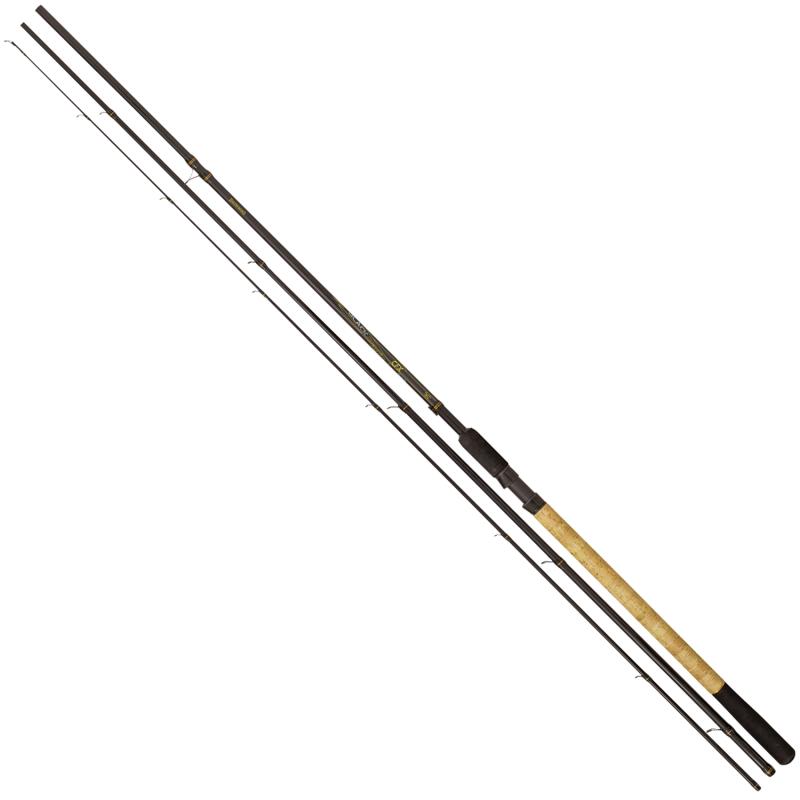 What material are match rods made of?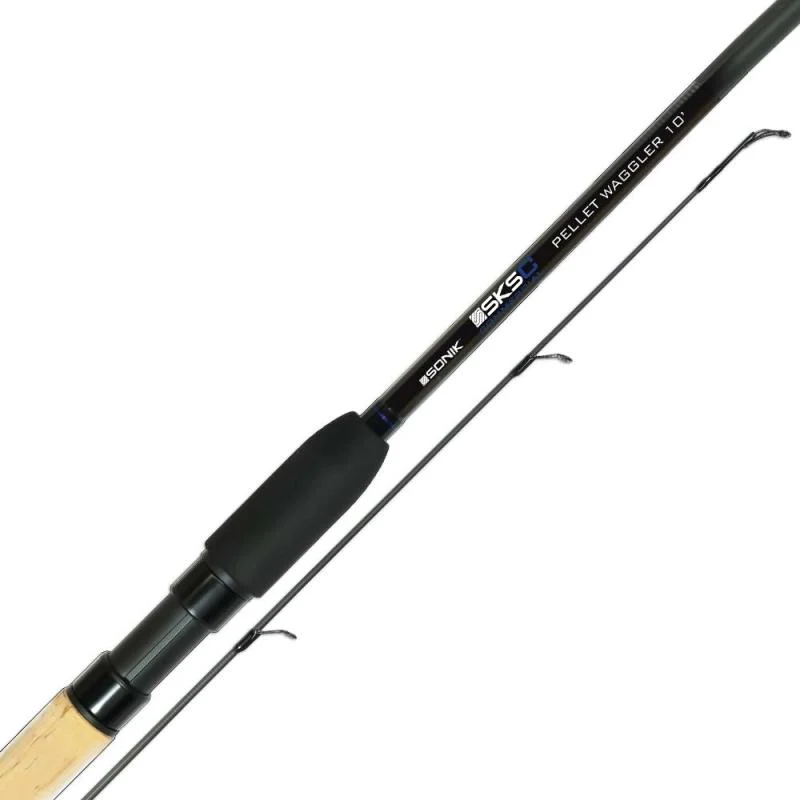 Match rods are typically made from two main materials: carbon fiber (also known as carbon) and fiberglass. Both materials have their own characteristics and benefits that affect the performance and characteristics of the rod. Sometimes rods are made from a combination of carbon fiber and fiberglass to combine the advantages of both materials.
1. Carbon fiber (Carbon): Carbon fiber is a state-of-the-art material that is very popular in angling. It is characterized by its lightness and high sensitivity. Carbon fiber rods are lighter compared to fiberglass rods and offer better transmission of vibration and movement to the angler. This makes it possible to detect even subtle bites and make the fishing experience more intense. Carbon rods tend to be stiffer and have a faster action, making them ideal for long casts.
2. Fiberglass: Fiberglass rods are sturdier and more resistant to impact and stress. They are slightly heavier than carbon rods and have a slightly slower action. This means that when the rod is loaded the flex will extend over a greater range and the rod will perform well when playing a fish. Fiberglass rods are often less expensive than carbon rods and are a good choice for the beginner or angler who needs a more durable rod.
3. Carbon Fiber Glass Fiber Combination: Some match rods are made from a combination of carbon fiber and fiberglass. The advantages of both materials are combined to create a rod with balanced properties. Such a combination can offer a good balance between sensitivity and robustness and appeal to a wider audience.
It is important to note that the choice of material alone does not determine the quality of a match rod. Rod manufacturers also consider the design, construction, action and other factors to achieve desired performance characteristics. Therefore it is always advisable to try different models and to consider personal preferences and fishing conditions before making a final decision.
Buy cheap match rods online at Fishingsquare.com
At Angeplatz.de we stock an extensive selection of match rods for anglers of all experience levels. From reputable brands to high quality own brands, we offer you a wide range of options so you can find the perfect match rod for your individual needs.
Our team of experienced anglers will be happy to provide you with expert advice to help you choose the right match rod. We attach great importance to the quality of our products and only carry products that meet our high standards. So you can be sure that you are purchasing a match rod from us that will give you years of pleasure.
The satisfaction of our customers is our top priority. We pride ourselves on offering first class customer service and are happy to assist you with any questions or issues you may have about any of our range.
Discover the world of match fishing with Fishingsquare.com
Let yourself be captivated by the fascination of match fishing and discover the high-quality match rods in our range. Whether you are a beginner or a seasoned pro, we have the right match rod for your fishing style. Make your next fishing experience an unforgettable sense of achievement with the right equipment from Huber fishing supplies.
Don't hesitate to contact us with any questions. We look forward to assisting you in your fishing success!