Spoons - a classic with high catch
When it comes to successful fishing, the right baits are crucial. At Fishingsquare.com we offer you an impressive selection of spoons that will help you maximize your chances of catching and create unforgettable fishing experiences.
What are spoons?
Spoons, also called spoons, are classic artificial lures that are popular with anglers worldwide due to their versatility and high catch. They are designed to reflect light and create flashing light patterns in the water to attract the attention of predatory fish. Spoons have a distinctive spoon shape that gives them their name and come in a variety of sizes and colors to appeal to different fish species and fishing conditions.
The advantages of spoons:
Attractive flashing: The reflective light pattern and flashing of the spoons attract predatory fish from afar as it awakens their curiosity and hunting instincts.
Long throws: Spoons have good flight characteristics due to their shape and weight, which allows you to cast them far and cover larger water areas.
Versatility: Spoons can be used in a variety of fishing techniques including trolling, jigging or simply reeling in. They work in both standing and flowing water and are suitable for both freshwater and saltwater fish.
Shelf life: Spoons are usually made of high-quality materials and can withstand a lot of stress, so that they retain their catch even after many fish catches.
What is there to consider before buying spoons?
Fish species and fishing conditions: Think about which fish species and fishing conditions you primarily want to use the spoons for. Spoons come in different sizes and weights designed for different fish and fishing techniques. For example, large spoons work well for pike or salmon, while smaller spoons may work better for perch or trout.
Spoon size and weight: The size and weight of the spoon affect its flight characteristics and how it dives in the water. Lighter spoons are ideal for shallow waters or when you prefer faster retrieves. Heavier spoons work well for trolling or when you want to reach greater depths.
Color selection: Spoons come in a variety of colors, all of which can have different appeals to the fish. On sunny days and in clear water, bright colors like silver or gold can be effective, while in murky conditions or in deeper water, high-contrast and vibrant colors are more visible.
Action of the spoon: A spoon's action refers to how it moves and flashes in the water. Some spoons have a steady action, while others have a fluttering or trembling blinking behavior. Experiment with different actions to find out which works best and which appeals to the fish the most.
Quality and material: Pay attention to the quality of the spoons and the material they are made of. High-quality spoons made of robust materials retain their flashing and reflective properties even after prolonged use and many catches.
hook quality: Check the quality and sharpness of the hooks on the spoons. Sharp hooks are critical to ensure safe hook placement and minimize fish loss.
By considering these aspects before purchasing spoons, you can ensure you are selecting the right baits for your specific fishing needs and maximize your fishing success. It pays to try different models and brands to find out which spoons work best for you and your target fish.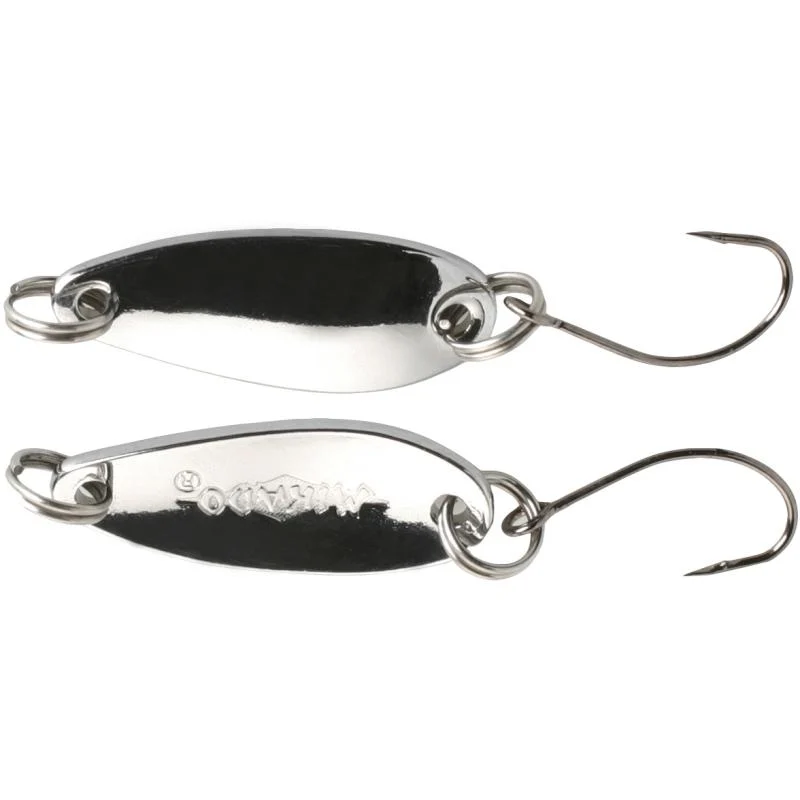 What material are spoons made of?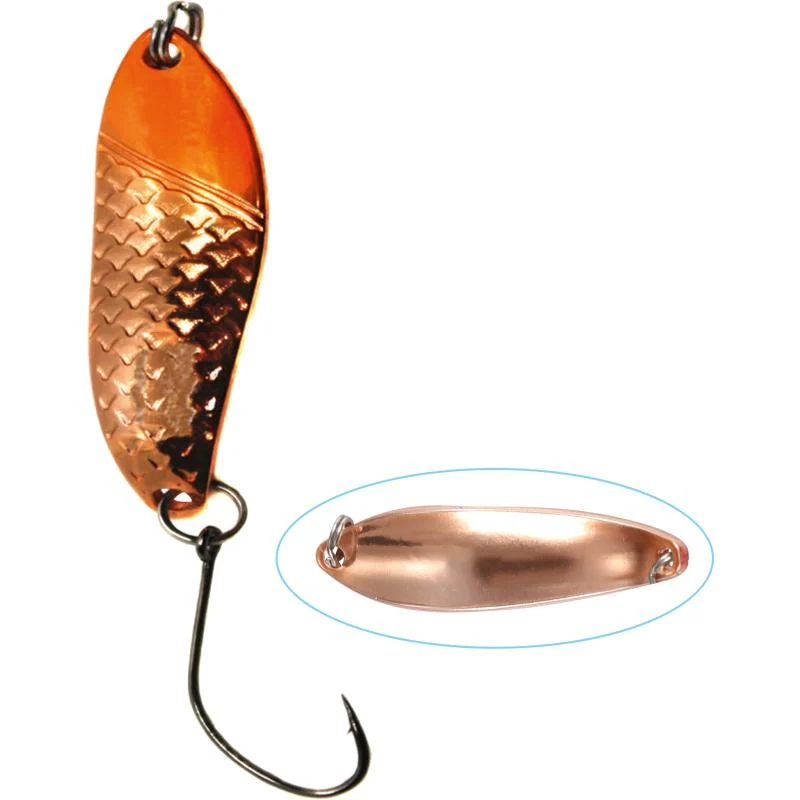 Spoons are usually made of metal, especially brass, copper, steel or aluminum. Metal is an excellent material for making spoons due to its properties, being easily malleable to obtain the characteristic spoon shape while offering good durability and corrosion resistance.
Here are the most common metal materials used to make spoons:
Brass: Brass spoons are popular because brass is easily malleable and has good durability. Brass spoons often have a gold or copper finish, which is particularly attractive in clear water and in sunny weather.
Copper: Copper spoons are also common. Copper has properties similar to brass and creates an alluring sparkle in the water. Copper spoons are particularly effective when fishing for predatory fish such as pike or zander.
Steel: Steel spoons are robust and durable. They are usually coated with a thin layer of paint or metal to increase attraction for the fish. Steel spoons are good for saltwater fishing because they resist corrosion.
Aluminum: Aluminum spoons are lightweight and have high flight characteristics, making them ideal for fishing for distant fish species. They are particularly effective for salmon or trout fishing.
The surface of the spoons can also be modified with paint, foil coating or special lacquering to make the light more reflective and more attractive to the fish.
It is important to note that there is a wide variety of spoons with different material combinations and designs to cover a wide range of fishing conditions and fish species. Choosing the right spoon material depends on personal preferences, fishing waters and the target fish.
Buy cheap spoons online at Fishingsquare.com
At Angelplatz.de we have an extensive selection of spoons from renowned manufacturers and proven brands. We offer a variety of sizes, colors and designs to ensure you find the perfect spoon for your fishing needs.
Our dedicated team of experienced anglers will be happy to provide you with expert advice. We will help you choose the right spoon according to the fish species, the fishing conditions and your individual preferences. We're happy to share our knowledge and tips to ensure you're fully equipped to land your next big catch.
The satisfaction of our customers is our top priority. We value high quality products and first class customer service. If you have any questions or need assistance with your selection, we are here for you Monday to Friday from 9:00 a.m. to 19:00 p.m.