Landing nets and nets – safely and gently to the target fish
At Angelplatz.de you will find everything you need for a successful fishing experience.
A landing net or net is an essential accessory for anglers to land their catch safely and gently. It not only serves to lift the fish out of the water, but also to protect it from injury and protect the environment.
The landing nets and nets in our fishing shop are made from high-quality materials that have been specially developed for fishing needs. They are tough, durable and resistant to the challenges that fishing brings.
At Fishingsquare.com we offer you a wide range of landing net and net types to meet the individual needs and preferences of every angler. For freshwater fishing, for example, we recommend landing nets with a fine mesh to avoid damaging the sensitive skin of the fish. For saltwater fishing we offer durable nets that can withstand sea conditions.
Our landing nets and nets come in a variety of sizes and styles, so you can choose the right landing net for your style of fishing. From the small, handy landing net for trout fishing to the large landing net for carp fishing, we have the right product for every angler.
In addition, we attach great importance to environmental compatibility and sustainability. Our landing nets and nets have been designed to have as little impact on aquatic life as possible. They are easy to clean to prevent the spread of disease and are made of environmentally friendly materials that have no negative impact on water bodies.
When selecting our landing nets and nets, we also pay attention to ergonomic handles and comfortable handling. We know that fishing often involves long hours on the water, so it's important to us that you can use your equipment comfortably.
What are landing nets and nets needed for?
Catch and Land: The main purpose of landing nets and nets is to safely lift the caught fish out of the water and land it. Once a fish is bitten and hooked, a landing net or net allows the angler to carefully remove the fish from the water in order to control it and bring it safely on board or onto the bank.
Protection of the fish: Landing nets and nets serve to protect the caught fish during the landing process. The gentle catching with a net protects the fish skin, scales are not rubbed off and the sensitive fins remain intact. This minimizes the risk of injury to the fish.
Sizing: Landing nets and nets allow anglers to take a closer look at the caught fish and determine its size. This is important to ensure the fish is legal and can either be released or kept. A landing net or net gives the angler a chance to get a closer look at the fish before making a decision.
Environmental Protection: Landing nets and nets are also used to temporarily keep the fish in the water while the angler sets up tackle or other preparations. This minimizes stress on the fish and allows it to remain in the water until safely handled. This helps protect the environment as the fish is protected and respected.
Safety: Landing nets and nets offer the angler additional security. Especially with larger fish that can defend themselves strongly, landing nets allow controlled landings to avoid injuries to the angler. A landing net gives the angler the ability to safely hold the fish and release it without having direct contact with the fish's pointed fins or sharp teeth.
Overall, landing nets and nets are essential tools in fishing, designed to land catches safely, take care of the fish, respect the environment and give the angler more control and peace of mind.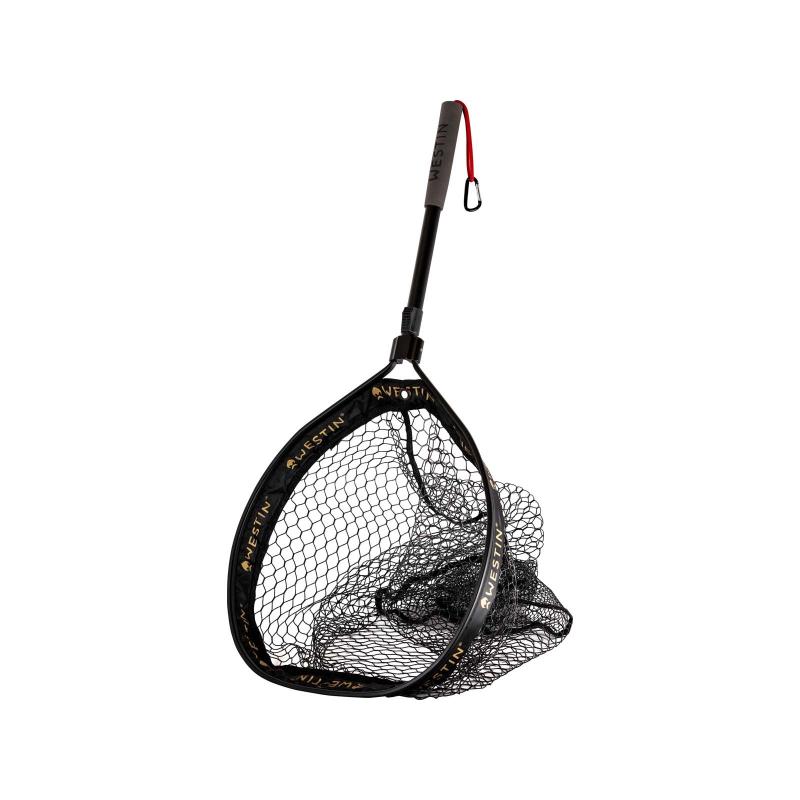 What do you have to consider before buying landing nets and nets?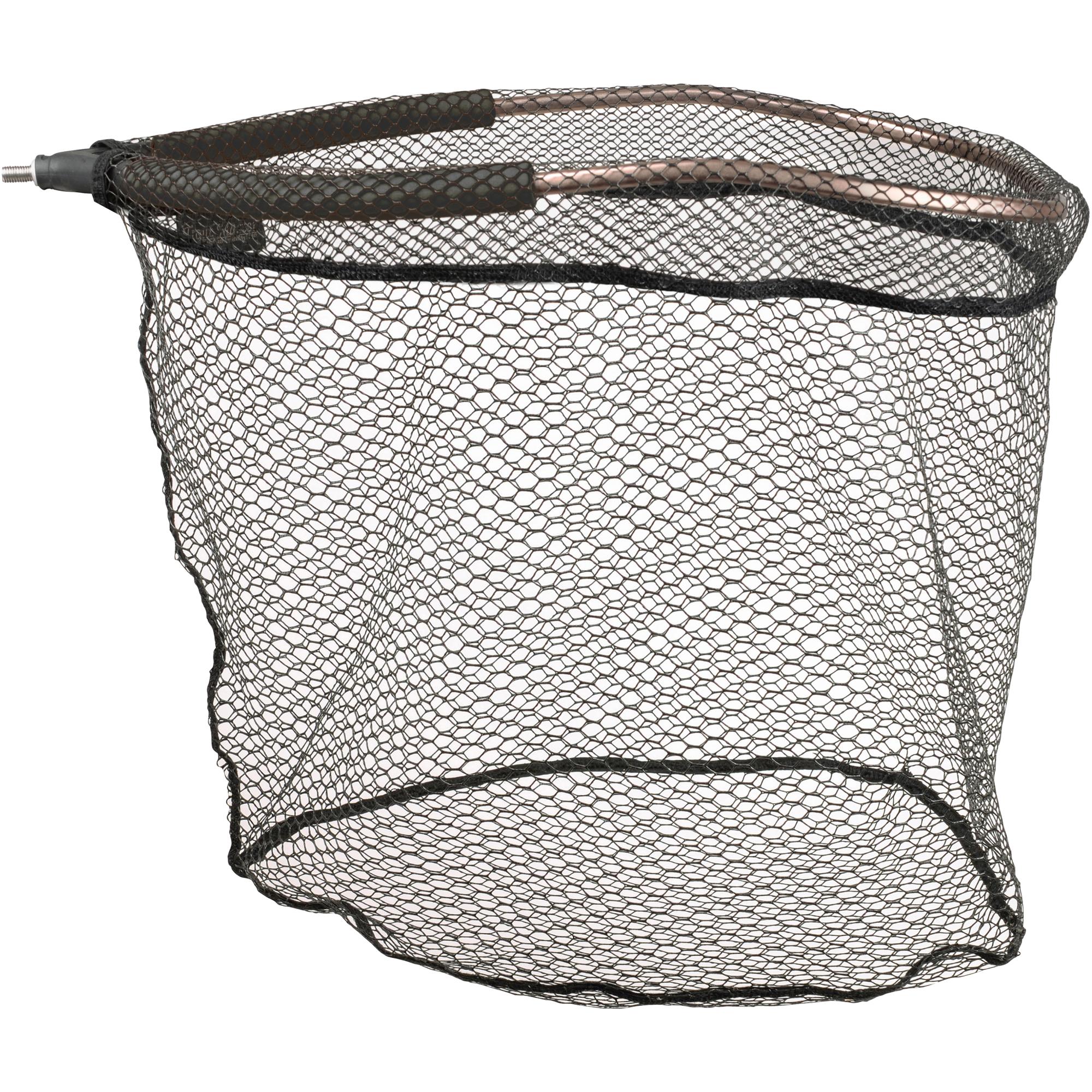 Size and depth: Choose a landing net or net of a size that suits your needs. Consider the type of fishing you want to do and the species of fish you expect to catch. A larger landing net or deeper net may be required for carp fishing or larger water fishing, while a smaller landing net may be sufficient for trout fishing or shallower water fishing.
materials and durability: Check the material of the landing net or net frame and the net bag. High-quality landing nets are often made from lightweight yet strong materials such as aluminum or fiberglass for the frame and heavy-duty nylon or rubber for the net. Make sure the material is durable and will stand up to the rigors of fishing.
mesh size: Pay attention to the mesh size of the net. For freshwater fishing, a finer mesh with smaller meshes is recommended to protect the fish skin and prevent fins from penetrating. When saltwater fishing, you can use a larger mesh net to allow for quick water flushing and reduce net snagging.
Handling and ergonomics: Check the handle or handle of the landing net or net frame. Make sure it fits your hand comfortably and has a good grip. A non-slip handle or a padded handle can make handling easier, especially on longer fishing trips.
Portability: Consider how easy it is to transport the landing net or net. Check if the landing net is foldable or telescopic for convenient storage in your fishing gear. Lighter materials also contribute to portability.
Environmental compatibility: Look for landing nets or nets that are made in an environmentally friendly way. Avoid products that contain potentially harmful chemicals or could increase environmental impact. An environmentally friendly landing net helps protect water bodies and the fish and other aquatic life that live in them.
What material are landing nets and nets made of?
Landing nets and nets are made from a variety of materials, each with their own advantages and disadvantages. Here are some common materials used in the manufacture of landing net and net frames and net bags:
Aluminium is a lightweight yet strong material commonly used for the frame of landing net handles or handles. It is corrosion resistant and durable, making it ideal for use in various bodies of water.
Glass fiber reinforced plastic (GRP) or carbon fiber are often used for landing net handles or frames. These materials are lightweight, yet very strong and offer good durability.
stainless steel frame are robust, rust-resistant and durable. They are particularly suitable for saltwater fishing as they can withstand the corrosive conditions of the sea.
Nylon is a popular material for the mesh pockets of landing nets and nets. It is strong, flexible and resilient. Nylon nets are available in different mesh sizes and can be adjusted for different fish species and fishing methods.
Rubber coated mesh pockets are often used for catch-and-release practices as they are gentle on the fish. The rubberized material prevents hooks or fins from catching in the net and minimizes the chance of injury to the caught fish.
Polyester mesh pockets are durable and offer good resistance to wear and tear. They are often coated to improve durability and waterproofing.
It is important to note that different manufacturers may use different materials and combinations of materials. Choosing the right material depends on your specific needs and preferences, as well as the fishing conditions you plan to fish in.
Buy landing nets and nets cheap online at Fishingsquare.com
Visit our online shop and discover our extensive range of landing nets and nets. Our products are carefully selected to offer you the best possible quality. If you have any questions or need advice, our friendly and competent team will be happy to help you Monday to Friday from 9:00 a.m. to 19:00 p.m.
We look forward to accompanying you on your next fishing season and providing you with an unforgettable fishing experience with our high-quality landing nets and nets. Tight lines!