Stationary reel – ideal for beginners and professionals
In our online shop on Angelplatz.de we offer you a large selection of spinning reels for beginners and experienced professionals. Durable and precisely manufactured, our stationary reels meet all the requirements of passionate anglers.
If you want to cover as many fishing methods as possible with one reel, you are well equipped with a stationary reel from our tackle shop. Due to its wide range of uses, it has become the most widely used fishing reel in the world. In this article you can find out what differences there are in the types of brakes and what you should look out for when buying one.
How a stationary reel works
On a stationary reel, the spool is fixed to the axle. The rotor rotates around the spool, at the same time the spool is lifted and lowered from the axle. This ensures that the Fishing line unwind from the spool when casting and roll back up evenly when reeling in.
For which fishing methods is a spinning reel suitable?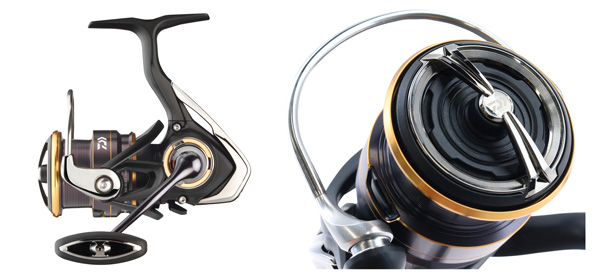 Stationary roles can be used in different ways. For example, you come to Spinning, match fishing, feeders, bottom fishing and even when Sea fishing for use. As with other fishing equipment, you should think in advance about what you want to use the reel for, as stationary reels are divided into different braking systems. These are the front and rear brakes and the freewheel system. Front drag reels are ideal for spin fishing, while rear drag reels are used more when fishing from a seat. Reels with a free spool system are mainly used for bottom fishing for big fish like carp utilized.
Differences in braking systems:
front brake
With front drag reels, the wheel for adjusting the drag sits directly on the spool. High-quality roles of this type can be recognized by the fact that they are waterproof and therefore less susceptible to dirt. Furthermore, due to the larger drag discs, which act directly on the spool, they can be adjusted much more sensitively than rear drag reels. This ensures that the fish is hooked in the front of the mouth when the hook is struck and the animal does not swallow the bait. In addition, the fine adjustment is a guarantee for reducing fish loss through disembarkation.
rear Drag
With rear drag reels, on the other hand, the adjustment wheel is located at the lower end of the stationary reel. In their braking system, several discs act on the roller axis. An advantage of these reels is their ease of use when playing a fish. The downside is that rear brakes get dirty quicker than front brakes and are a lot harder to clean. Some rear drag reels also have a so-called fighting drag. With it it is possible to quickly change the braking force without changing the original setting of the brake. This is particularly noticeable when playing big fish, as you can quickly switch from a soft to a hard setting.
freewheel brake
In addition to a front or rear brake, free-running reels have a free-running brake. This is activated by flipping the lever at the end of the roll up. This brake is adjusted so that the fish can pull away without resistance. If you now want to set the first attempt, the lever must first be pushed down again. This automatically activates the front or rear brake and the fish can be drilled out with the previously set brake strength.
Stationary reel size
Stationary rolls are available in different sizes. Which one is best for you depends primarily on the body of water and the fish you want to fish. The size of the roll is in most cases indicated on the spool. The numbers there vary from manufacturer to manufacturer and therefore do not represent an exact indication of the actual size of the roll. However, they serve as a guide. For example, 10.000 rolls are suitable for heavy things Sea fishing. 4.500-6.000 reels are a good choice for Surf fishing, as they can also be used to drill out large fish.

If you are targeting fish that live in large rivers and lakes, you should look for spinning reels in the 2.500-4.000 size range. For smaller bodies of water, 1.500-2.000 rolls are perfectly adequate. If you want to fish short distances in shallow waters such as streams, you can use 1.000-1.500 reels. With them, white fish, trout and perch outsmart.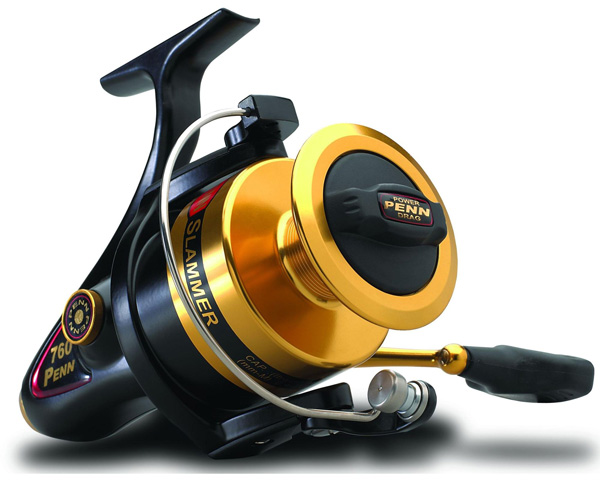 Translation of the stationary reel
Stationary reels with a medium ratio are ideal for beginners and all-rounders. These types of reels are suitable for almost every type of fishing. Their gear ratio is between 4.9:1 and 5.9:1. These values ​​are part of the standard information on a fishing reel. They indicate how often the spool rotates around its own axis per turn. This means that at the value 5.9:1 it rotates exactly 5,9 times. In addition to these all-round wheels, there is a low and high gear ratio. The low transmission is suitable for slowly guiding large lures through the water, as they can be reeled in very easily with their help. While high gear reels do the exact opposite. With them, small baits can be moved quickly through the water and the cranking behavior is more difficult.
Manufacturer of stationary reels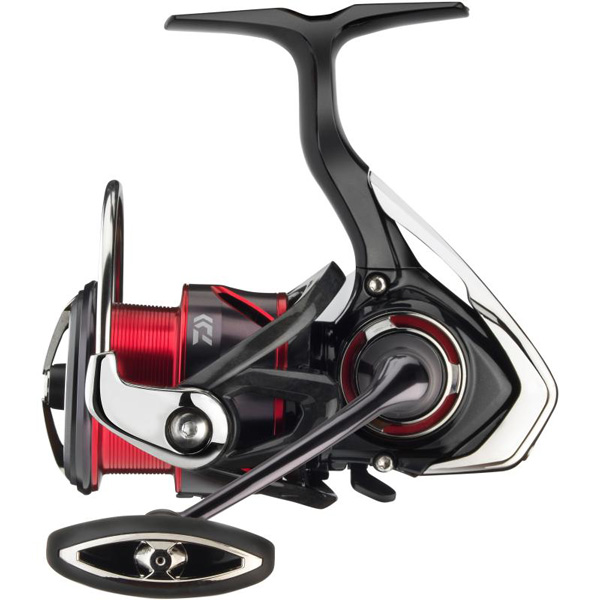 Due to their popularity, fishing tackle manufacturers offer many different spinning reels. As already mentioned, you should think about which fishing method you want to use the reel for before you buy it. A reel that is suitable for hide fishing as well as for the Spinning suitable is, for example, the Cormoran Daiwa Legalis LT. This is an all-round reel with front drag, which impresses with its price-performance ratio. It is very light and meets the highest quality standards.

The is suitable for passionate carp anglers Shimano Baitrunner ST 10000RB free spool reel. It has a powerful, smooth and precise rear brake and is characterized by its sophisticated technology. A very robust reel suitable for sea fishing is the one FOX Eos 12000. It has a sealed front quick brake and a graphite body. It is up to you whether you decide on a stationary reel with a front, rear or freewheel brake system. Each type of brake has advantages and disadvantages. As your fishing career progresses, you will discover what type of reel you are most comfortable with.
Tips for maintaining the spinning reel
Finally, a few tips on how to get the most out of your stationary reel for as long as possible. At the end of a fishing season, when the reel has been struggling with wind and other external factors, it needs to be checked thoroughly. In particular, this means that you should treat one or the other part with oil and grease and even replace it. This is especially true when the reel has often gotten wet and been exposed to sand and dirt. Most signs of wear, such as a bail arm that is difficult to open or a rattling crank, can often be fixed with grease and oil.

The gearbox, in particular, relies on grease to function smoothly. However, you should not use normal bearing grease, as it is far too stiff. At cold temperatures, the roller would come to a complete standstill due to the hardening. To counteract this, oil must be added to the fat until it is smooth and drips easily from the mixing trowel. When oiling, grease must never get onto the brakes, but only on the running parts such as the bail arm, axle and worm shaft. A film of grease on the brake discs otherwise prevents any reliable braking effect.
Buy spinning reels online at Fishingsquare.com
Here at Fishingsquare.com we offer you a wide range of stationary reels for a wide variety of needs. You will find light reels for trout fishing as well as more robust stationary reels for deep sea fishing - at Angelplatz.de nothing is left to be desired. Order today in our online shop and let us convince you of top prices and excellent quality.
Do you have any questions or concerns about our stationary castors or anything else Fishing accessories from our online shop? Then feel free to contact us by e-mail or telephone. Our service team is available for you Monday to Friday from 9:00 a.m. to 19:00 p.m.