Telescopic rods - space-saving and easy to use
At Fishingsquare.com we offer you a wide range of telescopic rods specially designed to offer you an unparalleled fishing experience. Whether you are a seasoned professional angler or a newcomer to the world of fishing, our telescopic rods are the perfect choice for any fishing enthusiast.
Why telescopic rods?
The telescopic rods in our fishing shop are characterized by their outstanding quality, durability and ease of use.
Space-saving and portable: Telescopic rods are known for their space-saving properties. They fold up easily, making them ideal for fishing trips, travel or when you're just short on storage space. Our telescopic rods can be easily stowed in bags, backpacks or trunks.
Versatility: Whether you are fishing on a lake shore, a river bank or on a boat, our telescopic rods adapt to different fishing environments. They are available in a variety of lengths and actions to meet the needs of different types of fishing.
High-quality materials: We attach great importance to quality. At Angelplatz.de you will therefore only find telescopic rods that have been manufactured with first-class materials. This guarantees optimal performance, strong durability and a long service life of our products.
Easy to use: Our telescopic rods are easy to handle for both beginners and experienced anglers. Retracting and retracting the rod is a breeze and they offer an excellent balance of sensitivity and power to give you the ultimate fishing experience.
What are telescopic rods needed for?
Telescopic rods are a versatile type of fishing rod that can be used for a range of fishing techniques and environments. Here are some of the most common uses for telescopic rods:
Travel and portability: Telescopic rods are particularly popular with anglers who want to travel. Due to their ability to contract to a compact size, they are easy to carry and take up little space. They are great for fishing trips, camping trips and other activities where space is limited.
bank fishing: When fishing from the bank, telescopic rods offer the advantage that they can be easily transported and assembled. Available in a variety of lengths, these rods allow you to fish from different bank areas such as: B. from bridges, dams or embankments.
boat fishing: Telescopic rods can be particularly useful on boats or kayaks, as they can be folded away when not in use to minimize disruption or damage. They allow anglers to move freely on the water and still get the benefits of a quality fishing rod.
Holiday homes and rental properties: If you are fishing from holiday homes or rental accommodation, telescopic rods are ideal as they are easy to transport. They save you the hassle of carrying bulky fishing rods with you or storing them on site.
Urban fishing: In urban environments where access to fishing spots may be limited telescopic rods offer a practical solution. Packable into pockets or backpacks, they allow you to spontaneously fish around town when the opportunity arises.
Hiking and trekking tours: If you enjoy hiking or trekking, telescopic rods can be an excellent option. They are lightweight and portable, allowing you to stop at different fishing spots along the way.
Children and beginners: Telescopic rods are often the first choice for children or beginners in fishing. Their ease of use and portability make them a great choice for those just starting out in the world of fishing.
Biodiversity: Telescopic rods come in a variety of lengths, actions and gauges, making them suitable for a variety of fishing styles. Whether you want to fish for trout, perch, carp, sea fish or any other species, there is a telescopic rod to suit.
Overall, telescopic rods are extremely versatile and can be used in many different fishing environments and situations, making them a practical and convenient choice for anglers of all skill levels.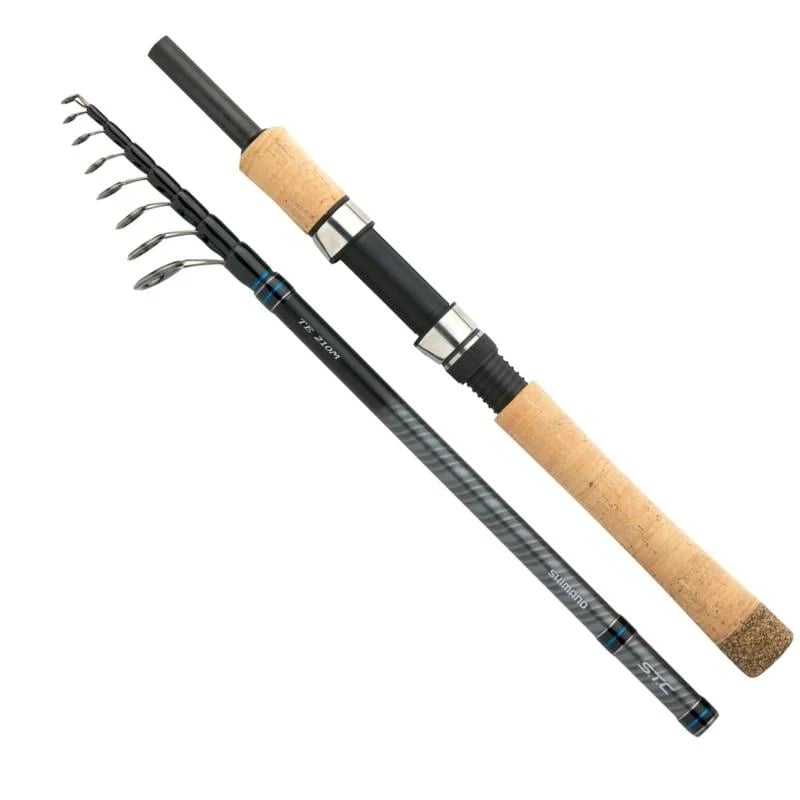 What is there to consider before buying telescopic rods?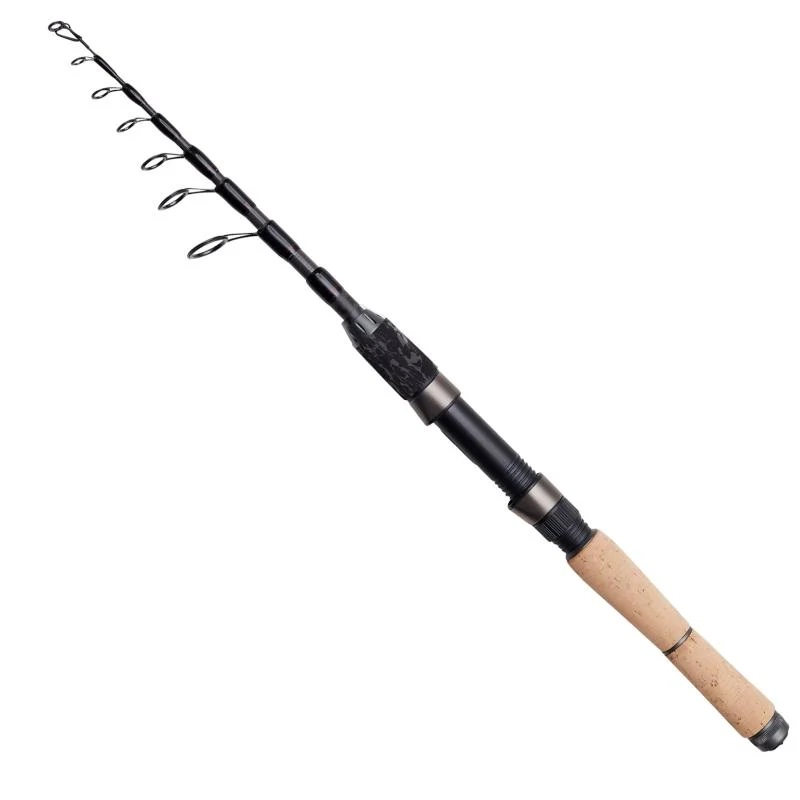 Fishing style and environment: Think about what kind of fish you want to fish and what kind of environment you will be fishing in. Different telescopic rods are more suitable for different fishing techniques and styles. Make sure the telescopic rod you choose is suitable for your preferred fishing method and the specific environment you will be fishing in.
Length and action: Telescopic rods come in a variety of lengths that affect range and castability. A longer rod usually allows for longer casts, while a shorter rod can offer more control. A rod's action refers to the bend curve and the speed with which it returns to its original shape. A faster action works well for more delicate lures and larger fish, while a slower action offers more flexibility.
casting weight: The casting weight indicates how heavy the lure is or the weight that the rod can cast. Make sure the telescopic rod's casting weight capacity suits your fishing preferences and the size of the fish you're trying to catch.
Equipment: Telescopic rods are made from a variety of materials including fiberglass, carbon fiber and composite materials. Each material has its own pros and cons in terms of weight, sensitivity, and durability. Choose a material that suits your fishing style and meets your expectations.
transport length: Consider how important portability of the rod is to you. Telescopic rods are meant to be compact, but different models have different transport lengths when folded. Make sure the rod fits into your travel or storage plans.
Quality and brand: Invest in a quality telescopic rod from a reputable brand. Quality rods offer better performance, durability and sensitivity. You should read up on the reviews and brand reputation before you buy.
Price: Telescopic rods are available in different price ranges. Set a budget that suits your needs and look for rods that are within that budget and still offer good quality.
Additional equipment: Check if the telescopic rod has additional features that suit your needs, such as: B. special handles, roll holders, hook holders or transport bags.
By carefully considering these factors, you can choose the right telescopic rod that best suits your needs and preferences, giving you the best fishing experience.
Buy cheap telescopic rods online at Fishingsquare.com
The extensive range of telescopic rods in our tackle shop covers a variety of fishing styles and environments. Whether you are looking for a rod for freshwater fishing or saltwater fishing, we have the perfect model for you. From light rods for trout fishing to robust rods for deep sea fishing, you will find everything an angler's heart desires.
At Angelplatz.de, the satisfaction of our customers is our top priority. Our dedicated team is on hand to help you choose the right telescopic rod for your needs. We pride ourselves on offering high quality products and providing superior customer service.
Discover the world of fishing in a whole new way with our premium telescopic rods. If you have any questions or concerns, we are at your disposal. Start your unforgettable fishing experience with Angelplatz.de today.