Surf rods - for unforgettable fishing experiences
If you're a passionate surf angler or just curious about surf fishing, then you've come to the right place at our tackle shop.
Surf rods are specially designed for fishing in coastal surf. They are characterized by their length, stability and robustness to meet the challenges of surf conditions. Although surf fishing requires a challenging technique, with the right surf rod you can enjoy an unforgettable fishing experience.
Our range of surf rods includes a variety of models to suit the needs of different anglers. From beginners to seasoned pros, we have something for everyone. Our rods are carefully selected and come from reputable manufacturers known for their quality and performance.
A good surf rod should be light but still strong to enable you to cast long distances into the surf. She should also have enough strength to handle big fish and the challenges of the salty water. In addition, it should have a sensitive tip to give you precise feedback when a fish bites.
What are surf rods needed for?
Here are some of the main reasons surf rods are needed:
Long throws: Surf rods are longer than traditional fishing rods, allowing anglers to cast their bait far into the surf zone. This is important to reach the fish that are feeding in deeper water. The length of the surf rod improves leverage and allows you to cast the bait with more power and precision.
Stability and robustness: The surf rods are designed to withstand the adverse conditions found in the surf. They are usually made of high-quality materials such as fiberglass or carbon, which give them stability and strength. The rods must be strong enough to withstand the pressure that strong surf waves and big fish can exert.
Sensitive tip: Surf rods often have a sensitive tip that allows you to pick up on subtle bites from fish. This is particularly important as surf areas can often have murky water and strong currents making it difficult to visually spot a bite.
Fish Variety: Surf fishing offers a wide variety of fish species to be caught including sea trout, cod, flatfish, mackerel, sea bass and even shark. Surf rods are designed to deal with different fish species and different conditions.
Experiences and Challenges: Surf fishing is an exciting and challenging experience for many anglers. The unpredictable surf conditions require skill and skill to succeed. Surf rods allow you to take on these challenges while still enjoying an exciting fishing experience.
Whether you are an experienced surf angler or just starting out, surf rods are an essential tool for mastering coastal surf fishing. They offer the required length, stability and sensitivity to give you an effective and successful fishing experience.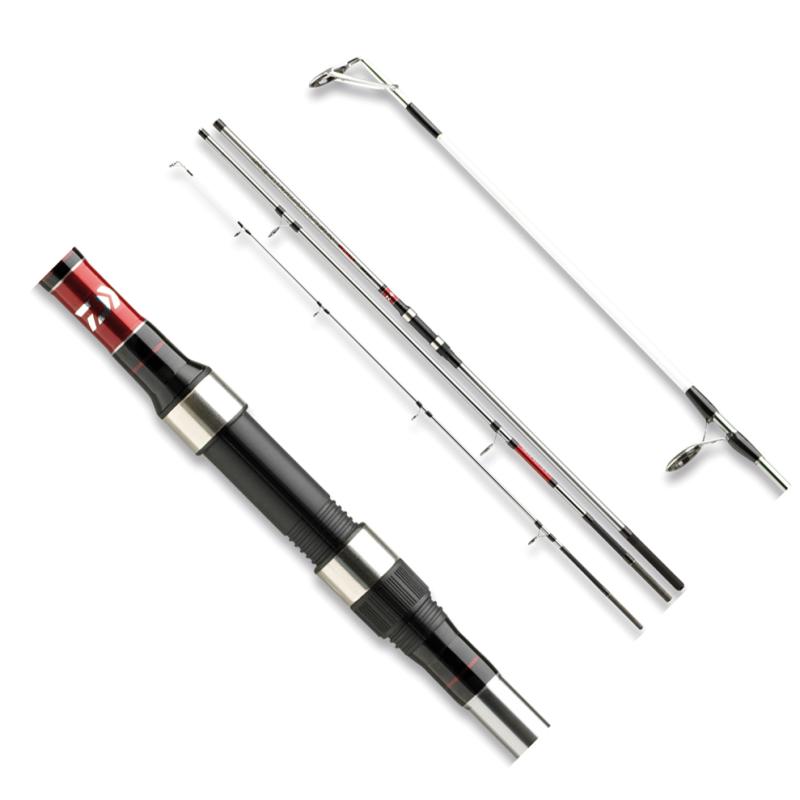 What is there to consider before buying surf rods?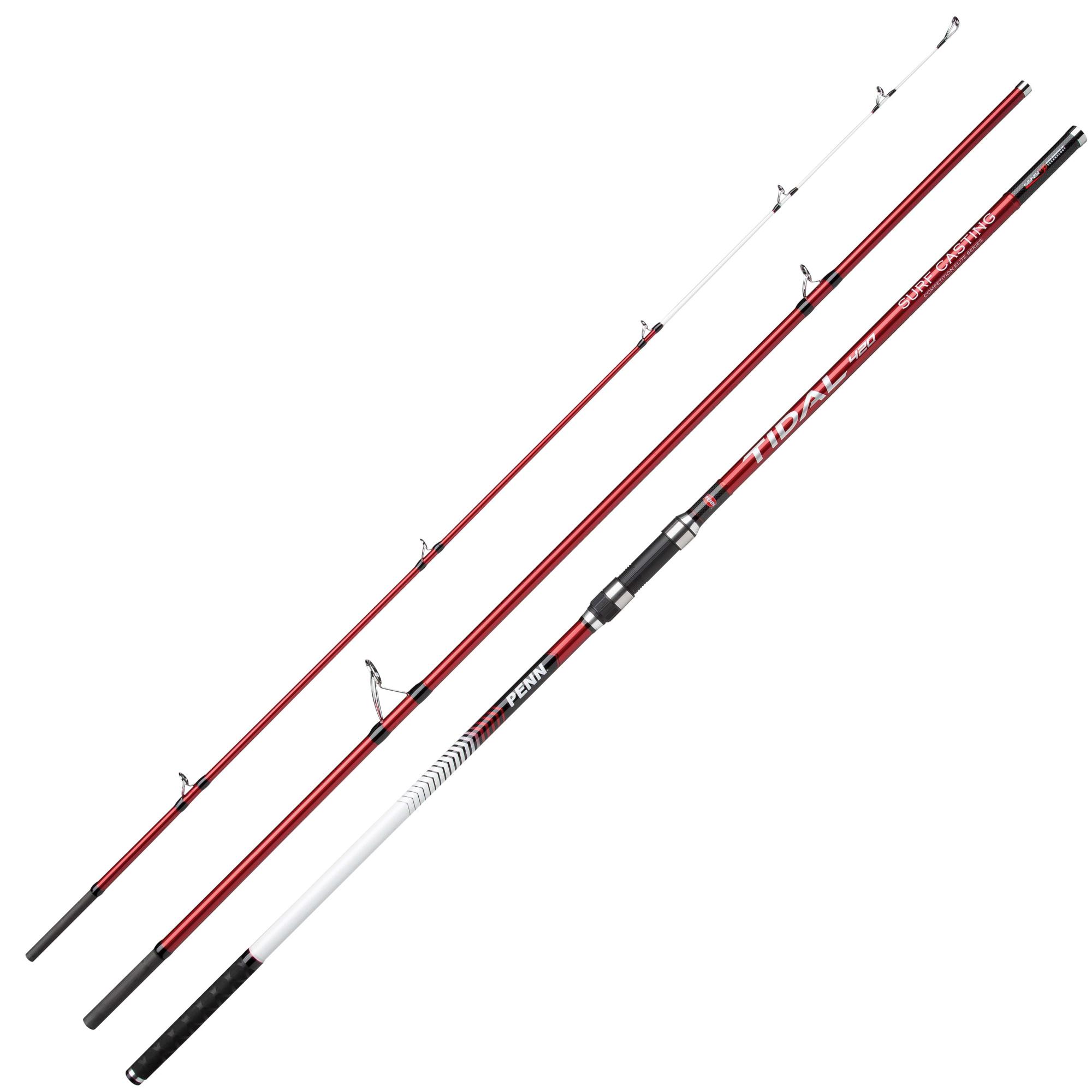 rod length: Surf rods are generally longer than traditional fishing rods. The length usually varies between 3,6 and 4,5 meters but can also be longer. A longer rod gives you longer casts and better control of the bait in the surf. Consider your fishing goals and water conditions to choose the right length.
Rod Action: The action of a surf rod is related to its bend curve and its response to loading. Surf rods often have a parabolic or semi-parabolic action where the bend extends the full length of the rod. A parabolic action allows for even pressure on the fish during the fight, reducing the risk of line breakage. Decide whether you prefer a faster or a slower rod action based on your personal fishing style.
Equipment: Surf rods are typically made from fiberglass, carbon, or a combination of both. Fiberglass rods are strong and offer good leverage, while carbon rods can be lighter and more sensitive. Rods made from a combination of both materials often offer the best balance of durability, sensitivity and weight. Consider your personal preferences and the weight you are willing to carry.
Handle and reel seat: The surf rod handle should be comfortable and easy to grip to give you a firm grip when casting and fighting fish. A quality reel seat ensures your fishing reel is securely attached to the rod. Check the quality and comfort of the grip and reel seat before deciding on a rod.
Budget: As with any fishing tackle, it's important to keep your budget in mind. Surf rods can come in a wide range of prices depending on the brand, material and features. Set a realistic budget and look for a rod that suits your needs and budget.
What material are surf rods made of?
Surf rods are typically made from two main materials: fiberglass and carbon (aka graphite). These materials offer different properties and benefits depending on the needs and preferences of the angler.
Fiberglass: Fiberglass is a strong and durable material that is widely used in fishing rod manufacturing. Fiberglass rods are known for their durability and ability to withstand heavy use. They are less prone to breakage or damage when faced with heavy surf waves or big fish. Fiberglass rods typically have a parabolic action, meaning the bend extends the full length of the rod. They offer good leverage and are ideal for tackling big fish.
Carbon (Graphite): Carbon is a lighter and stiffer material that has become increasingly popular in fishing rod manufacturing. Carbon rods are lighter than fiberglass rods and offer greater sensitivity. They allow anglers to better detect subtle bites and provide improved feedback. Carbon rods often have a faster action which means the bend is mostly in the top third of the rod. This allows for more precise casts and better control over the bait.
It is also possible for surf rods to be made from a combination of fiberglass and carbon to combine the benefits of both materials. These hybrid rods offer a good balance between durability, sensitivity and weight.
When choosing a surf rod, you should consider your personal preferences, budget and fishing goals. Both fiberglass and carbon rods can come in different price ranges and quality levels. It is worth comparing the different material options and, if necessary, taking into account the experiences and reviews of other anglers in order to make the right choice.
Buy cheap surf rods online at Fishingsquare.com
At Fishingsquare.com we offer you a wide range of surf rods that meet a wide variety of requirements. Whether you prefer a fixed length rod or a telescopic rod, we have the right choice for you. Our friendly and knowledgeable team are available Monday to Friday 9am-00pm to help you choose the perfect surf rod for your needs.
In addition to surf rods, we also carry a variety of accessories for surf fishing. From surf reels and special surf lines to lures and rigs - we have everything you need to completely equip your surf rod.
Discover our extensive range of surf rods today and continue your fishing adventure in the surf. At Angelplatz.de, quality, reliability and customer satisfaction come first. We look forward to helping you find the best fishing tackle for your needs.