Trout rods - high quality and the best possible control
Whether you are an experienced trout angler or a beginner, you will find everything you need to make your fishing trips successful at Fishingsquare.com.
The trout rods in our fishing shop are carefully selected and of high quality to give you the ultimate fishing experience. We know that trout fishing comes with its own set of challenges, whether that be in rivers, lakes or ponds. That's why we've put together a diverse range of trout rods to suit different needs and fishing styles.
Our rods offer a balanced combination of sensitivity, power and lightness. With their precise action and sensitivity, they allow you to sense subtle bites and present your lures with precision. Whether you're fishing with natural baits, plugs or spinners, our trout rods give you the perfect flexibility to get the best results.
When selecting our trout rods, we also paid attention to details such as the material, the length and the casting weight class. This allows you to find the rod that best suits your individual preferences and fishing conditions. Our rods are made from high quality materials to ensure durability and reliability so you can enjoy your fishing tackle for years to come.
What are trout rods needed for?
Trout rods are used specifically for trout fishing. Trout are popular fish species found in rivers, lakes and ponds. They are characterized by their fast and often shy behavior, which is why fishing for trout requires a certain technique.
Trout rods are designed to give anglers the best possible control, sensitivity and precision when fishing for trout. Here are some reasons why trout rods are needed:
Sensitivity: Trout are known for their cautious bites. A trout rod is capable of sensing even the slightest touch or bite from the fish. Due to the high sensitivity of the rod, you can react quickly to the bite and set the hook.
Precision: Trout rods are engineered to provide precise bait presentation. You can cast your bait where you want it and imitate a natural movement. This is important to keep the trout interested and tempted to bite.
Control: Trout rods offer optimal control during the fight. Trout are known to be lively and fighting fish. With a special trout rod you can guide the fish safely and prevent it from breaking free from your hook.
Adaptability: Trout rods are available in different lengths, casting weights and actions. This allows you to choose a rod that suits your individual fishing style and the prevailing conditions on the water. Whether you are fishing from the bank or using a boat, there is a trout rod to suit you.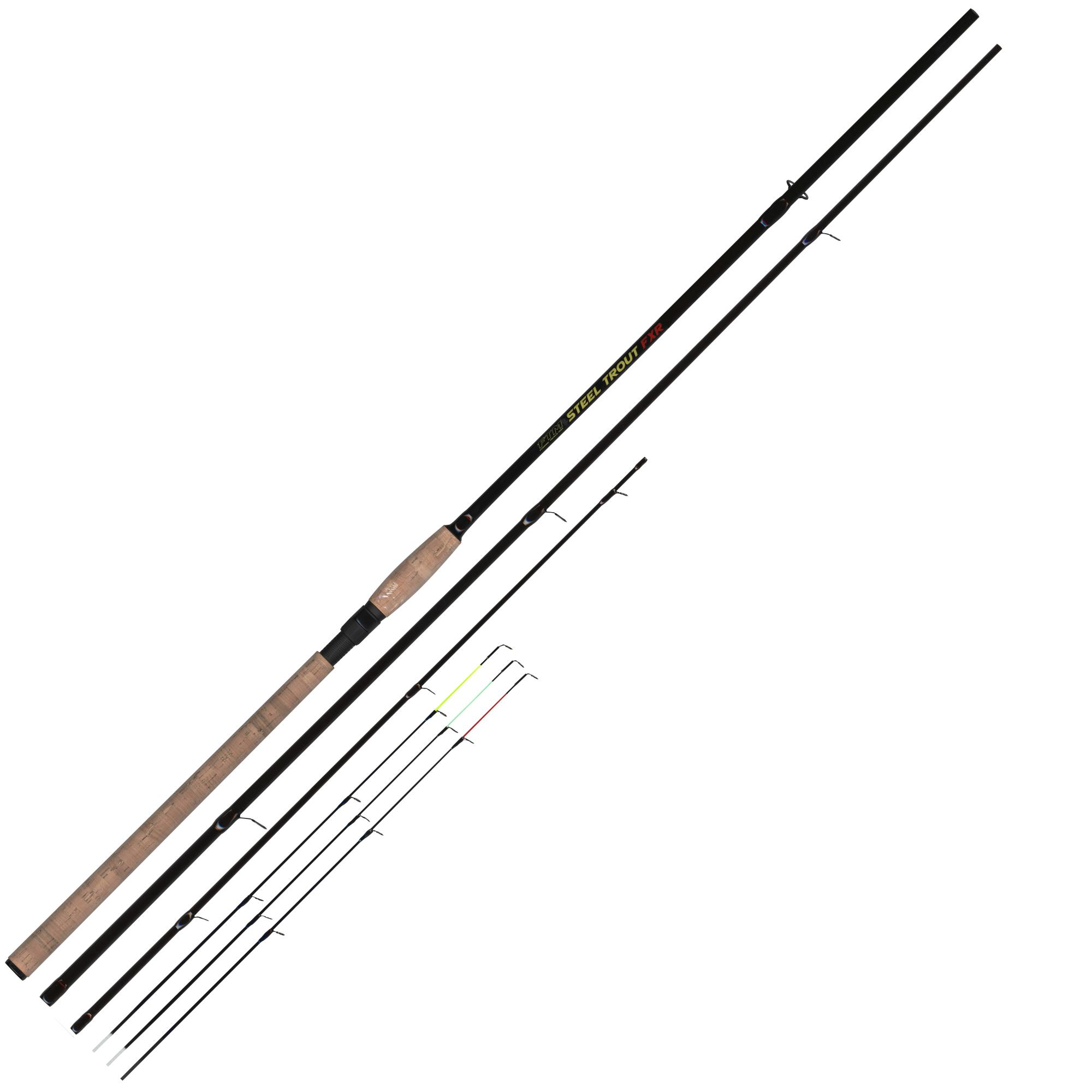 What do you have to consider before buying trout rods?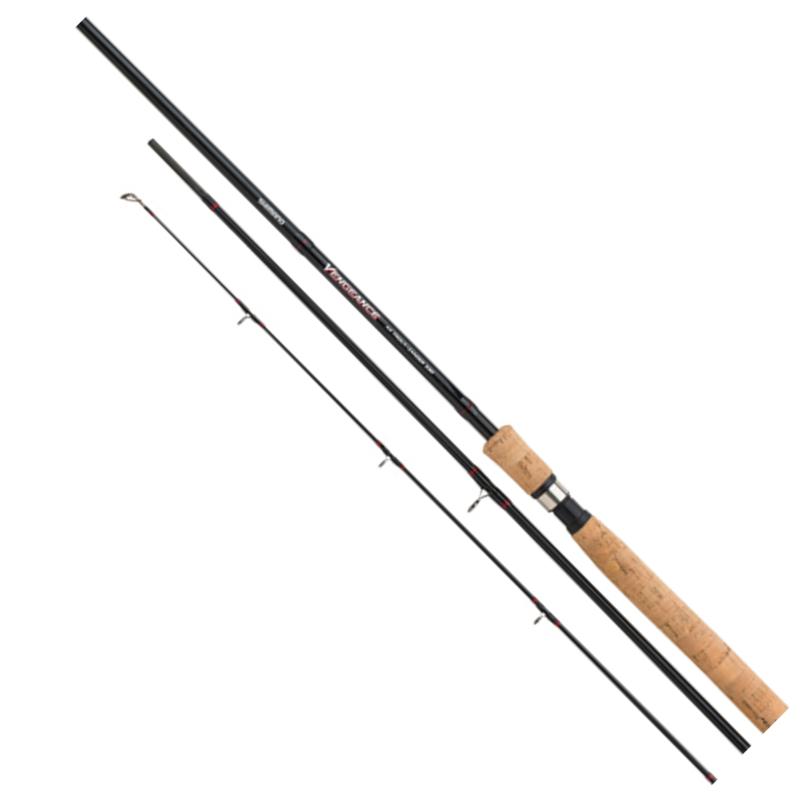 Fishing technique and experience: Think about which fishing technique you prefer or want to learn. Trout can be caught using a variety of methods such as spin fishing, fly fishing or bottom fishing. Make sure the trout rod you choose matches the fishing technique being used. If you are a beginner, choose a rod that is easy to handle and gives you a good fishing experience.
rod length: Trout rods are available in different lengths. A longer rod will often give you longer casts, while a shorter rod can be beneficial in tight waters. Also, consider transportation options, especially if you do a lot of walking. A shorter transport length makes transporting the rod easier.
Action of the rod: The action of a rod refers to the bend curve and flexibility of the rod. Trout rods are available in different actions such as fast, medium or parabolic. Faster action means the rod responds quicker in the top section, while parabolic action distributes the bend curve more evenly throughout the length of the rod. The choice of action depends on your fishing style and desired bait presentation.
casting weight: The casting weight of the rod indicates which weight class it can cast. Light to medium casting weights are usually sufficient for trout fishing. Make sure the rod can support the required weight for your bait.
Material and quality: Check the quality and material of the trout rod. High-quality rods are typically constructed from graphite or carbon fiber, which are lightweight yet strong. Good workmanship and robust components ensure a durable and reliable rod.
Budget: Set a budget for buying the trout rod. There are trout rods in different price ranges. However, keep in mind that a quality rod often offers better performance and durability.
What material are trout rods made of?
Trout rods are typically made from a variety of materials, with the two most common materials being graphite and carbon fiber. These materials offer a good balance of lightness, strength and flexibility, which is important to meet the specific needs of trout fishing.
Graphite: Graphite is a commonly used material for trout rods. It's light, stiff and offers good sensitivity. Graphite rods tend to be slightly more affordable than carbon rods and are well suited for the novice or angler on a budget.
carbon fiber: Carbon fiber is a more advanced and higher quality material that is often used in high quality trout rods. Carbon rods are lighter, stiffer and offer even better sensitivity than graphite. They enable precise casts and a fine bait presentation. In addition, they are usually more robust and resistant to loads.
Some manufacturers also use a combination of graphite and carbon fiber to combine the advantages of both materials. These hybrid rods often offer a good balance of lightness, sensitivity and durability.
It is important to note that there are other materials that can be used in the manufacture of trout rods, such as fiberglass. These rods tend to be heavier and less sensitive than graphite or carbon rods and are less commonly used these days. Still, they may be suitable for certain fishing techniques or personal preferences.
When choosing a trout rod, it is advisable to pay attention to the quality of the material used. Quality rods typically use premium graphite or carbon fiber materials to ensure optimal performance and durability.
Buy cheap trout rods online at Fishingsquare.com
In addition to trout rods, we also offer a wide range of accessories that will make your fishing experience complete. We have trout reels, fishing lines, hooks, baits, landing nets and much more to ensure you are fully equipped to maximize your chances of catching.
We pride ourselves on offering quality trout fishing accessories and look forward to helping you fulfill your passion for trout fishing. Browse through our range, discover the best trout rods and accessories and look forward to unforgettable fishing experiences.