Rod Bags - for safe storage of your fishing rods
If you are looking for a practical and safe storage solution for your fishing rods, then Fishingsquare.com is the place for you. Our rod bags are specially designed to protect your valuable fishing rods and make transport easier.
The rod bags in our fishing shop offer a variety of advantages. Firstly, they are equipped with a tough outer layer that protects your rods from damage caused by knocks, scratches and other external influences. Whether you want to take your rods to the fishing spot, on the boat or when travelling, our bags provide the protection you need.
Second, our rod bags feature a soft, padded inner liner that provides extra protection and minimizes the risk of rod breakage. The padding absorbs shock and ensures your rods remain safe and undamaged, even during transport over uneven terrain or in turbulent conditions.
In addition, our rod bags are extremely functional. They have practical carrying handles and/or shoulder straps that facilitate transport and increase comfort. Some models also offer separate compartments or straps for attaching accessories such as reels, landing nets or tackle to keep everything compact in one place.
What are rod bags needed for?
Rod bags are mainly used to transport fishing rods safely and protect them from damage. Here are some reasons why rod bags are essential for anglers:
Protection against damage: Rod bags offer effective protection against bumps, scratches, breakage and other damage that may occur during transport. The robust outer layer of the bags protects the rods from external influences and prevents them from being accidentally damaged.
Safe transportation: Rod bags are a safe and convenient way to transport your fishing rods without damaging or tangling them. The bags are designed to keep the rods stable and prevent them from slipping or tipping over during transport.
Organisation: Rod bags often offer multiple compartments or straps that allow rods to be organized neatly and accessories such as reels, landing nets or tackle to be safely stowed away. This gives you everything in one place and makes it easier to access the accessories you need.
Protection of the rods: The soft, padded inner lining in rod pockets serves to absorb shock and shock. This minimizes the risk of rod breakage or damage during transport. The padding also protects more sensitive parts of the rods, such as the tips, from damage.
Convenient transportation: Many rod bags have practical carrying handles and/or shoulder straps that make transport easier. You can comfortably carry the bags over your shoulder or carry them with the carry handles to distribute the load evenly and keep your hands free.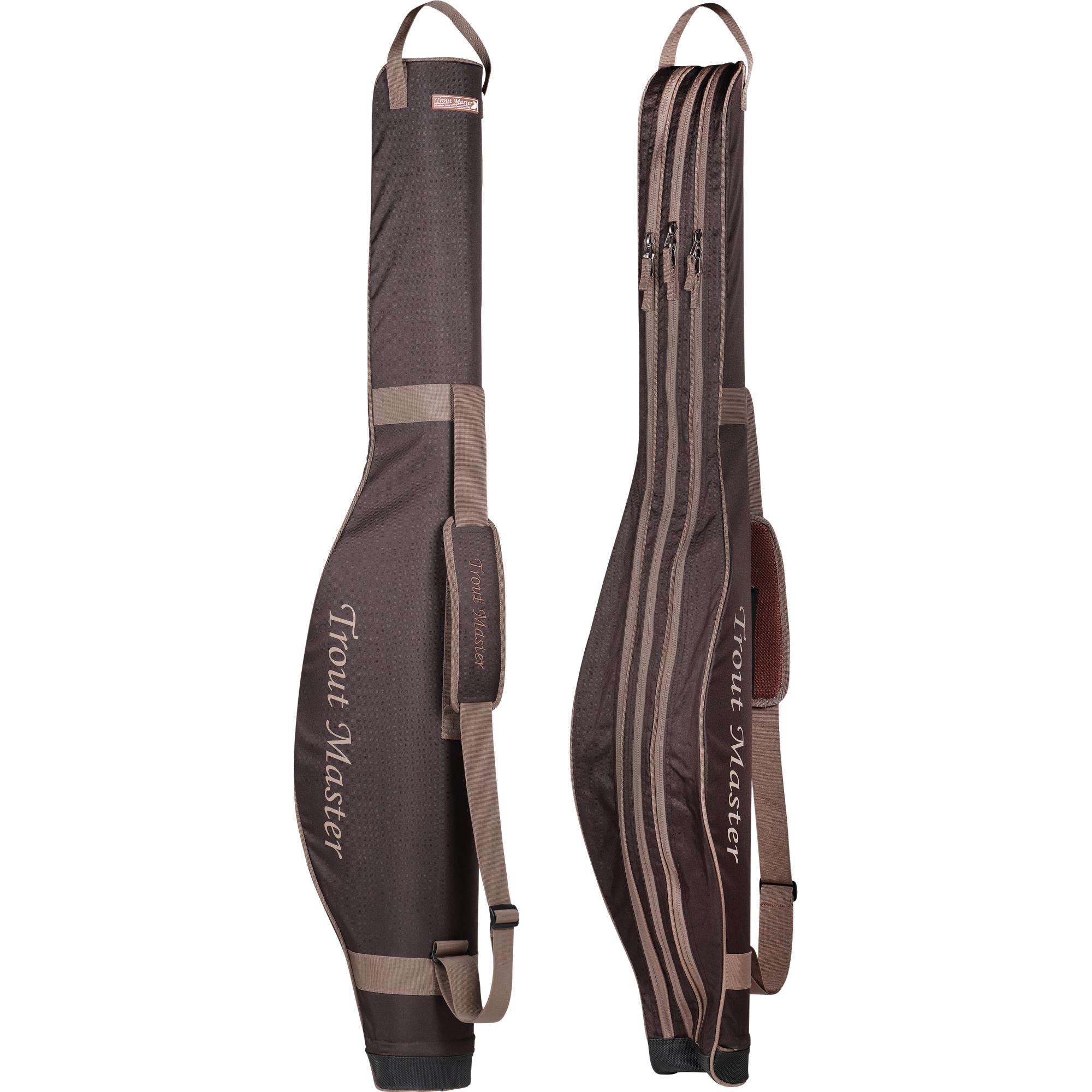 What should I consider before buying rod bags?
Length of rod: Make sure the rod bag is long enough to hold your fishing rod. Before purchasing, measure your rod to ensure it will fit in your bag. Also note whether the rod has to be disassembled into several parts and whether the bag allows this.
Material and protection: Check the rod bag material and make sure it is durable and hard wearing. The bag should be sufficiently padded to protect your rod from knocks and damage. Some bags also offer waterproof properties to protect your gear from moisture.
Carrying comfort and transport: Pay attention to the handles or shoulder straps of the rod bag. They should be comfortable and allow you to carry the bag around with ease. Some bags also have wheels or backpack straps that make transport easier.
Storage options: Check if the bag has additional pockets or compartments to store accessories such as fishing reels, lures or fishing accessories. A well-organized bag makes it easier for you to organize and find your gear.
Quality and brand: Look for reputable brands that are known for their quality and durability. Read reviews and experiences from other customers to get a better understanding of the case's reliability and features.
What material are rod bags made of?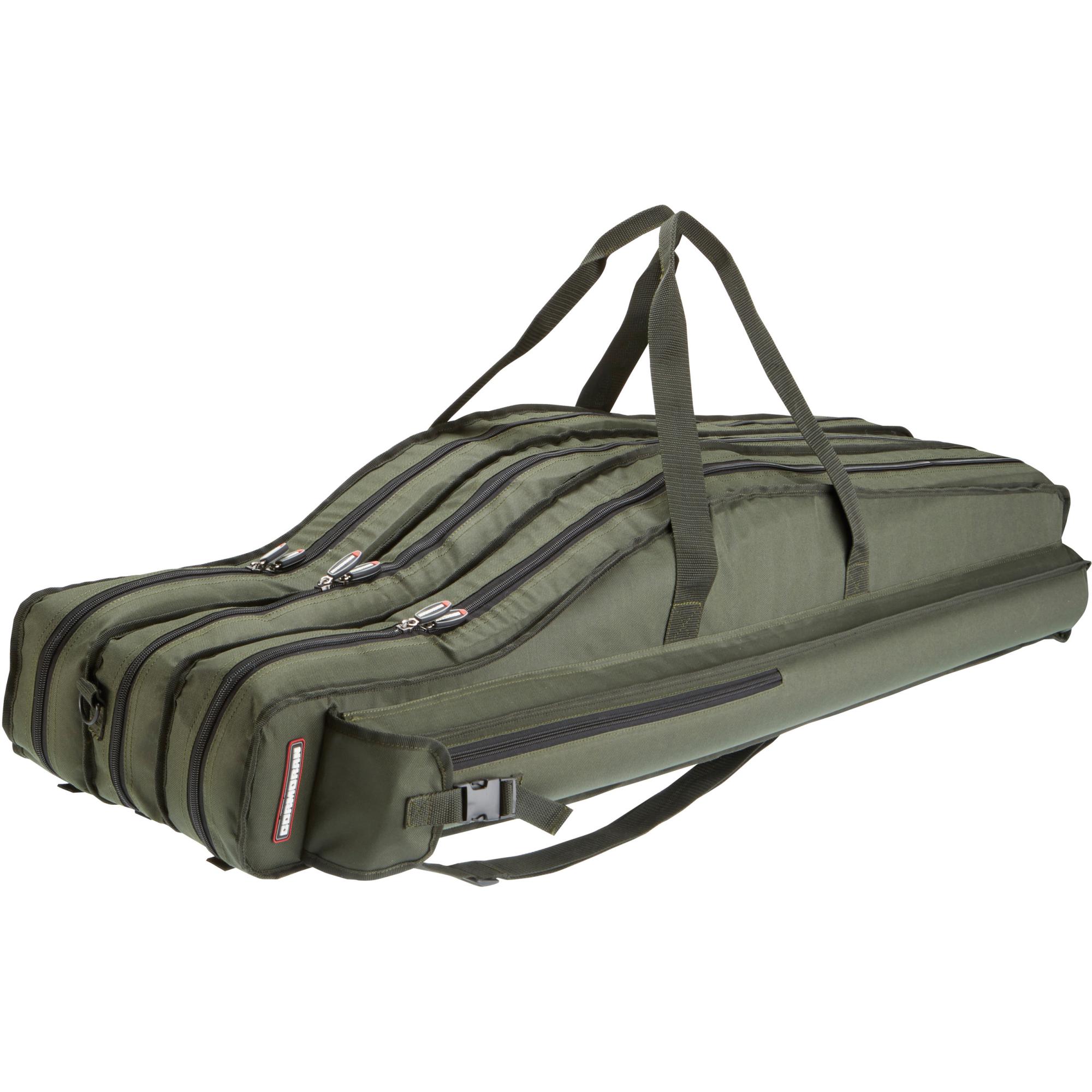 Rod bags are usually made of different materials, depending on the manufacturer, model and purpose. Here are some of the commonly used rod bag materials:
Nylon is a lightweight and durable material commonly used for rod bags. It offers a degree of water resistance and protection from scratches and damage.
Polyester is another popular material for rod bags. It is also lightweight, durable and offers good water and abrasion resistance.
Cordura is a robust fabric made of nylon fibers. It is particularly resistant to abrasion, cracks and scratches. Cordura rod bags are therefore very hard-wearing and offer a high level of protection for your fishing rods.
Neoprene is a soft, elastic material that is mainly used for protective tubes. These are often used to protect individual rod sections when not in use. Neoprene provides good padding and protection from impact.
hard plastic: Some rod bags, especially special rod cases or cases, also use hard plastic reinforced materials. These offer particularly high stability and protection against external influences.
It is important to note that not all rod bags are made from a single material. Different materials are often combined to provide desired properties such as durability, water resistance and protection. When purchasing a rod bag you should carefully check the product description and specifications to find out what materials it is made of and what protective features it offers.
Buy rod bags cheap online at Fishingsquare.com
The rod bags in our online shop are available in different sizes and designs to meet different needs and rod lengths. Whether you want to carry a single rod or multiple rods, we have the right bag for you. Our products are made of high quality materials that ensure durability and reliability.
At Angelplatz.de we attach great importance to customer satisfaction. Our dedicated team is available Monday to Friday from 9am to 00pm to help you with any questions you may have about choosing the right rod bag or anything else. We want to make sure you can transport your fishing rods safely and comfortably.
Discover our large selection of high-quality rod bags now and ensure that your fishing rods are well protected. At Fishingsquare.com you will find the perfect rod bag that will meet your needs.