For many fishing enthusiasts, Norway is a paradise: huge fish that offer a great fight, extensive untouched nature and, compared to Germany, very liberal fishing legislation. Almost nowhere is it so easy to bring home really big fish, regardless of whether it is fresh or saltwater fish. Here we have summarized what you should pay attention to when preparing your fishing holiday in Norway.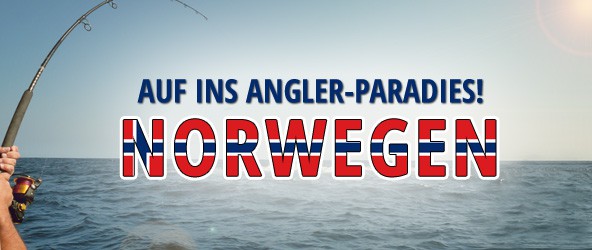 Fishing equipment for the trip to Norway
If you want to fish from a boat in one of the beautiful fjords or off the coast, you should invest in high-quality rods and reels. Especially if you fish with the pirk, which is popular with Norway anglers, there is sometimes a coalfish or cod weighing 10 kilograms or even more on the hook.
It is also important to have enough line on the reel, because particularly large fish often escape over 100 meters when they escape. With this line length, a braided line should always be used, as the lack of stretch means that there is always direct contact with the fish. In order to avoid the hook being torn out, a rod with a soft tip action is usually used so that the lines can be cushioned.
In our category Deep sea fishing you will find everything you need for saltwater fishing in Norway.
But rivers and lakes also attract with their stocks of grayling, trout, pikeperch and especially salmon. Next to the Spinning has, especially in the rivers and streams, that Fly fishing excelled as the method of choice. In the past, many anglers without any experience with the fly went to Norway and returned home as enthusiastic fly fishermen.
Of course, you can also fish in salt water from the shore with a wobbler or fly. The chances of catching some fish are even better with light equipment than with large bait from a boat.
Legal regulations for fishing in Norway
While Norway has laid-back fishing laws, there are some rules that you need to adhere to. First of all, tourists are only allowed to fish with hand tools. In addition, every angler must have a valid permit for the water, which can be purchased on site, for example at gas stations or supermarkets. If you want to fish on a river with char, sea trout or salmon ascent, people over the age of 16 must also pay a state fishing tax. This works in all branches of the Norwegian Post.
Eels, dogfish, herring sharks and basking sharks are specially protected; a general fishing ban applies to them. Be sure to find out about the applicable minimum dimensions on site, because many fish have a minimum size that can vary from region to region. If you catch a fish that does not reach the minimum size, you are obliged to release it as gently as possible.
The export of self-caught fish is limited to 15 kilograms per person, and a whole trophy fish may be taken along.
Have you ever been on a fishing holiday in Norway and can you share your experiences? What technique did you use to succeed and where did you catch the most fish? Tell us about your experiences in a comment!